Paid membership
Back to Dashboard

Please note that this feature is available only for paid plans and currently in
Public Beta
. That means there are some limitations and restrictions that will apply, some of which may change in the future.
As you build and grow your Newsy site, you will quickly realise that we are not just dealing with a content-aggregation site. With additional features including
Content Submission
and Private Site, what you are essentially building is a
community
around the niche topics.
With this in mind, Newsy provides a powerful monetization feature called
Paid Membership
, which allows you to earn recurring monthly revenue from memberships to your site. That is, each time a user registers an account on your Newsy, they will need to pay the monthly subscription fee.
In this document, we are going to take you step-by-step on how to enable this feature.
At the time of this writing, Stripe Connected Accounts are available only in the following countries - Australia, Austria, Belgium, Brazil, Bulgaria, Canada, Cyprus, the Czech Republic, Denmark, Estonia, Finland, France, Germany, Greece, Hong Kong, Hungary, India, Ireland, Italy, Japan, Latvia, Lithuania, Luxembourg, Malta, Mexico, the Netherlands, New Zealand, Norway, Poland, Portugal, Romania, Singapore, Slovakia, Slovenia, Spain, Sweden, Switzerland, the United Kingdom, and the United States
Newsy integrates with
Stripe
for all of its payment processing. This helps us and our users like yourself conduct payment transactions securely and fast without having to store sensitive information ourselves.
In order to enable
Paid Membership
, you must create a
Stripe Connected Account
so that when a new member creates an account on your Newsy site, Stripe can automatically and securely transfer the funds to your nominated bank account.
To do this, go to
Monetization
settings in your Newsy Admin Panel as shown below and click on the
Paid Membership
tab and then click on
Create Stripe Connected Account
button as shown below.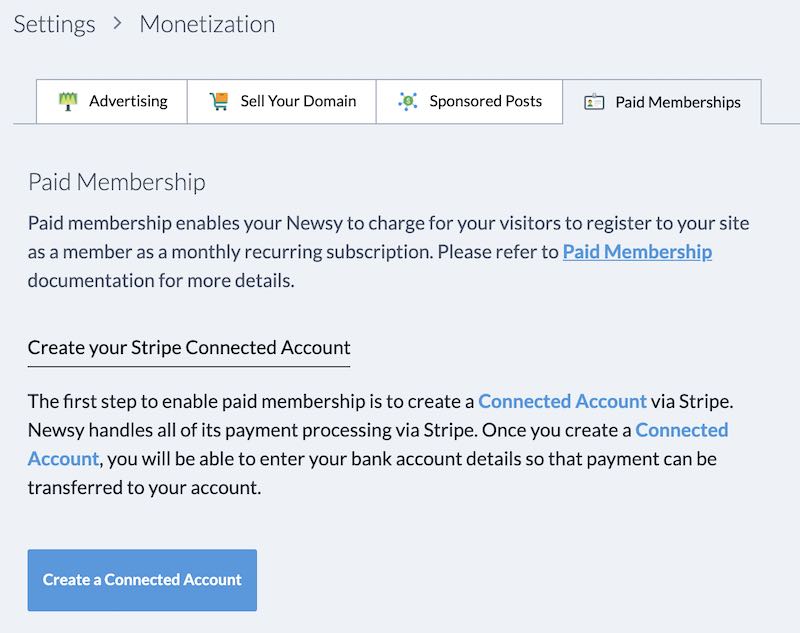 When you click on the button, you will automatically be redirected to Stripe site where you need to set up your account details. Stripe will take your bank account details, verify your identity and link that account to your Newsy site so that membership payments can be transferred to your account seamlessly.
Once you've completed your Stripe setup, you will be redirected to Newsy Admin Panel where you will be able to setup a price for your monthly membership.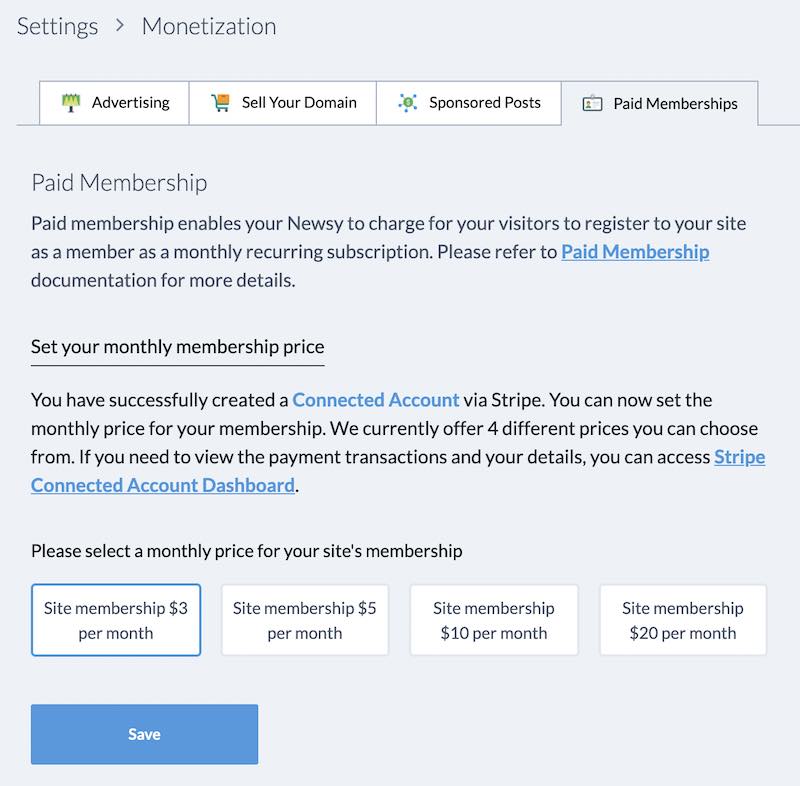 Currently, the available monthly membership prices are $3, $5, $10 and $20 per month and all prices are in USD.
When a membership payment is made, Newsy
will take 30% of the price as a fee
, which also includes the payment processing fee charged by Stripe.
That completes the setting up of paid membership. Next we'll go through how a user will pay for membership.
If you now go to your Newsy site and click on the
Register
link, you will see the following registration pop-up screen with a message that will indicate the membership price.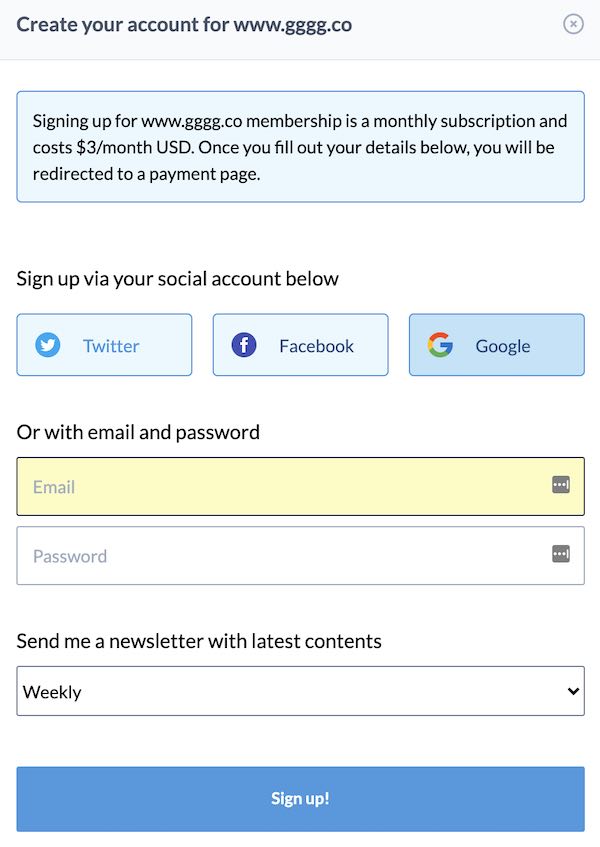 If the user fills out the above form, they will see the following payment popup.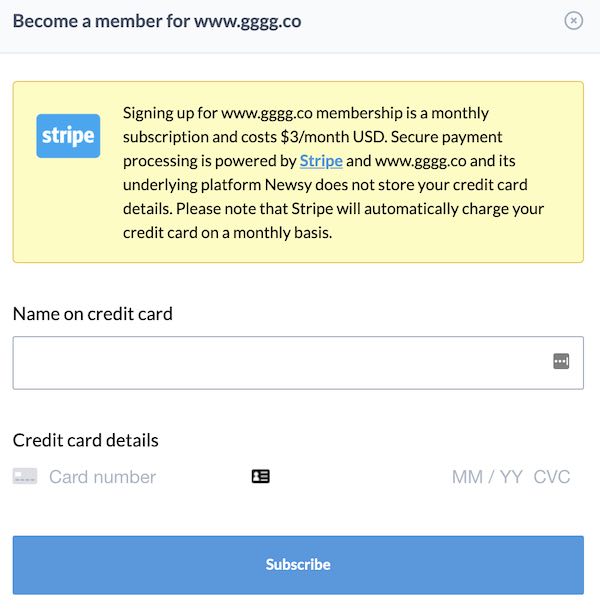 Once they fill out their credit card details, they will be logged in. After they are logged in, members will see an additional drop down item in their profile called
Billing
.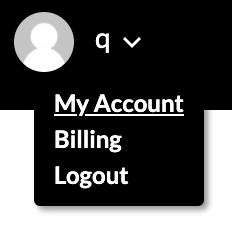 Clicking on the billing option will show a pop-up where a member can manage their monthly membership subscription.

What happens when a member cancels their paid membership?
The membership will be active until the end of the current billing cycle. For example, let's say a member paid for a membership on January 1st. That means, the membership is valid until February 1st. If a member cancels the membership on January 12th, the membership will still be active until February 1st. From February 2nd, he/she will no longer be able to access your site as the membership has now finished.
What happens if I enable membership on my existing Newsy site and I already have members?
If an existing member tries to access your site and if your site now has paid-membership enabled, then they will be prompted with the payment pop-up.
What happens if I need to give a refund?
You will need to send an email to
hello@newsy.co
and provide the member's details. We will trigger a refund via Stripe, which will create a reverse charge to your Connected Account. Note that 30% processing fee will not be refunded, which will be incurred to your Connected Account.
What happens if I want to disable paid membership?
You will need to send an email to
hello@newsy.co
. This requires canceling any existing subscriptions and ensuring that they are all cancelled correctly.

Got questions?
Get in touch with us