SEO - Search Engine Optimization
Back to Dashboard

It's one thing to create a content-based site, but it's another to bring in organic traffic from search engines. and Newsy has a number of features to help your site, which we explain below.
We have already explained how to add your site to Google Search Console
here
, which is a great tool for analyzing how your site and its contents are ranking in search results. We strongly recommend you set this up to analyze how your site is performing.
Newsy has a dedicated
SEO
settings for each site. The first thing you will find is a set of META tags that you can define for your site's homepage as shown below.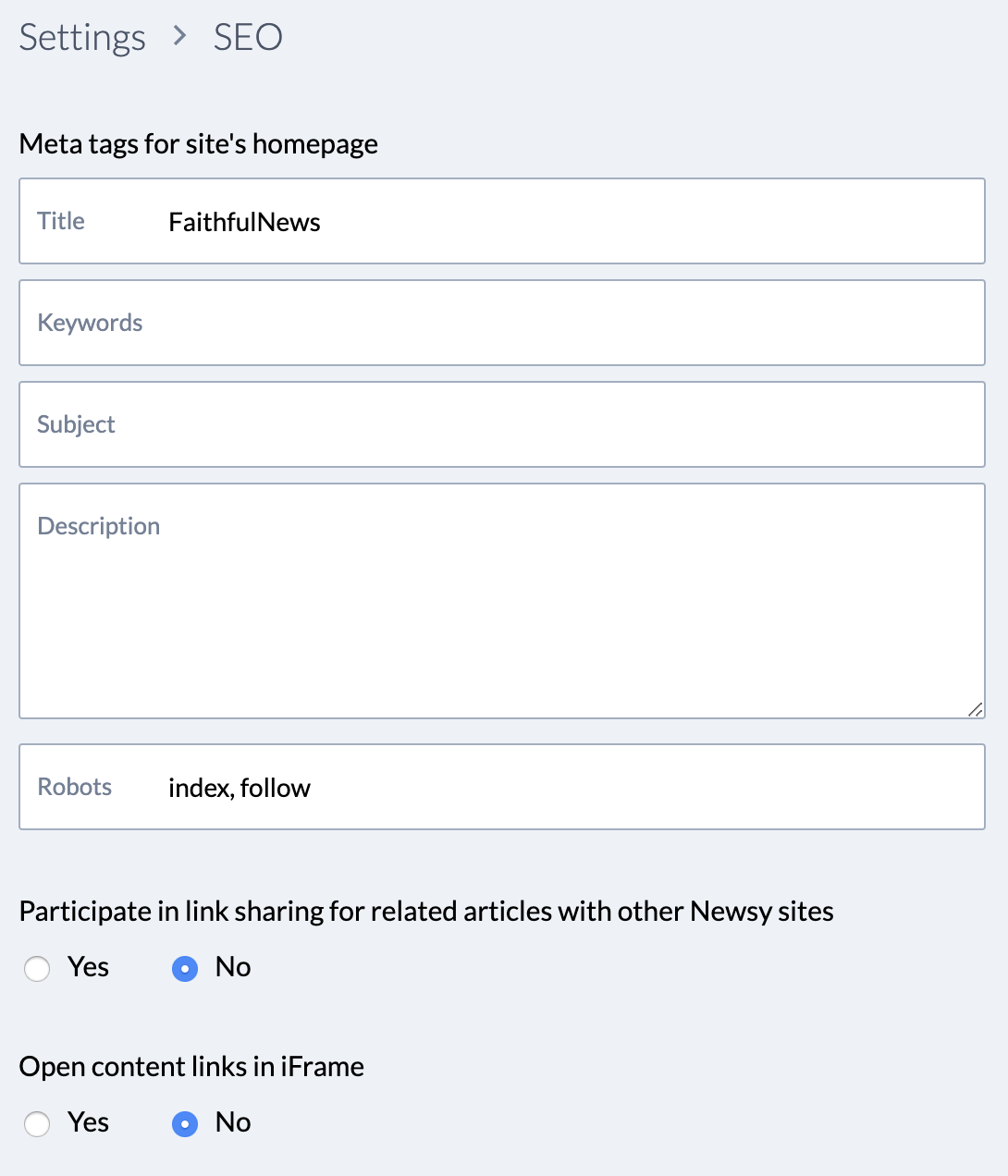 META tags are usually processed by search engines and you can modify them for your site's homepage here. For each of the content page, Newsy already defines a variety of META tags for not only search engines but also for social media (e.g. images) and is already highly optimized for each content.
One of the key ways to improve search results is to have many
backlinks
to your site (other sites linking to your site). For this, Newsy offers each site owner to participate in what we call
Link Sharing
program.
Each content has a set of
Related Contents
, which are typically a list of popular contents from the same site. However, if you participate in our
Link Sharing
, popular contents from other sites hosted on Newsy are displayed, while your site's contents will also appear on other sites hosted on Newsy.
Each content page on Newsy also links to content's original link. However, you can choose to open that link in an
iFrame
. An
iFrame
opens the content's original link in a
frame
within the browser window, while keeping your site's URL in the address bar.
An iFrame approach also allows us to place a header at the top of the page so that users can easily navigate back to your site. Newsy also displays social sharing options as well as showing a related content from your site.
Please note that not all websites allow their pages to be loaded within an iFrame. In this case, Newsy will fall back to the original link as intended.
If you're migrating your domain from previous site to Newsy, then chances are you may have some pages that are already ranking highly, which you probably do not want to lose. Or you may want to redirect some of your domain's paths to different URLs.
In such a case, you can use
Redirections
to map previous URL to another for your domain, which is available under the
SEO
settings page under
Redirects
.


Got questions?
Get in touch with us